CI Concept
The parallelogram and wordmark symbolize a stable and reasonable corporate culture, as well as maximum communication with our customers.
In particular, the creative and progressive shape of the parallelogram is a representation of the dynamic and active development of KCC Group's corporate culture.
Wordmark and Grid System
Wordmark and Grid System
The KCC GLASS Corporation wordmark is the most basic element of the KCC Corporate Identification System (CIS). It is to be used strictly in accordance with relevant guidelines as it expresses the image of the company both internally and externally, and is the most important symbol of all visual communication.

Wordmark
AI FILE DOWNLOAD

Grid System
JPG FILE DOWNLOAD
Meaning of the Letters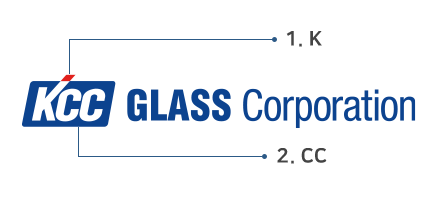 Wordmark
1. K
The The conspicuous red colored extension from the letter "K" is an impact mark that symbolizes our strong corporate vision and maximum potential for development.
2. CC
The soft and familiar-looking "CC" represents KCC Group's commitment to customer satisfaction by maximizing the spirit of customer service.
COLOR SYSTEM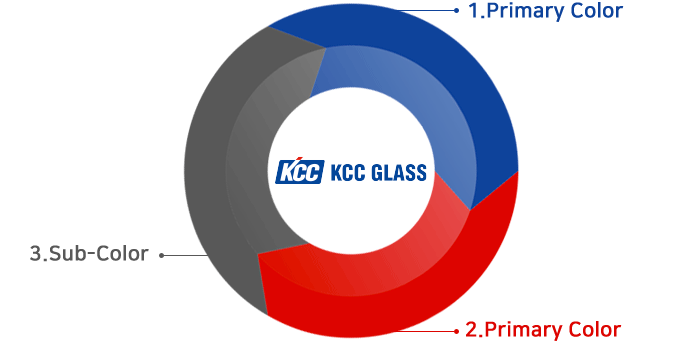 1. Primary Color
| | |
| --- | --- |
| PANTONE | 2738C |
| CMYK | C100+M80 |
| RGB | 3,78,162 |
| HEX | 00.40.98 |
| SHEET | LA 9659 |
| PAINT | VM 962X |
2. Primary Color
| | |
| --- | --- |
| PANTONE | 2738C |
| CMYK | C100+Y100 |
| RGB | 230,0,18 |
| HEX | E6,00,12 |
| SHEET | LA 9659 |
| PAINT | VM 962X |
3. Sub-Color
| | |
| --- | --- |
| DARK GRAY | R231 G231 B232 |
| LIGHT GRAY | R88 G88 B90 |
| GOLD | R166 G124 B64 |
| SILVER | R188 G189 B192 |