Ethical Management System
"Honesty and ethics are the starting points of business management."
KCC GLASS Corporation's highest value and roots lie in ethics. We not only respond to social demands emphasizing corporate transparency and morality beyond legal compliance, but also establish standards of conduct and value judgement that enable us to implement and actualize sustainability management. As such, KCC GLASS Corporation establishes the stakeholder code of ethics and strives to create sustainable values, based on the strong pillar of "ethics".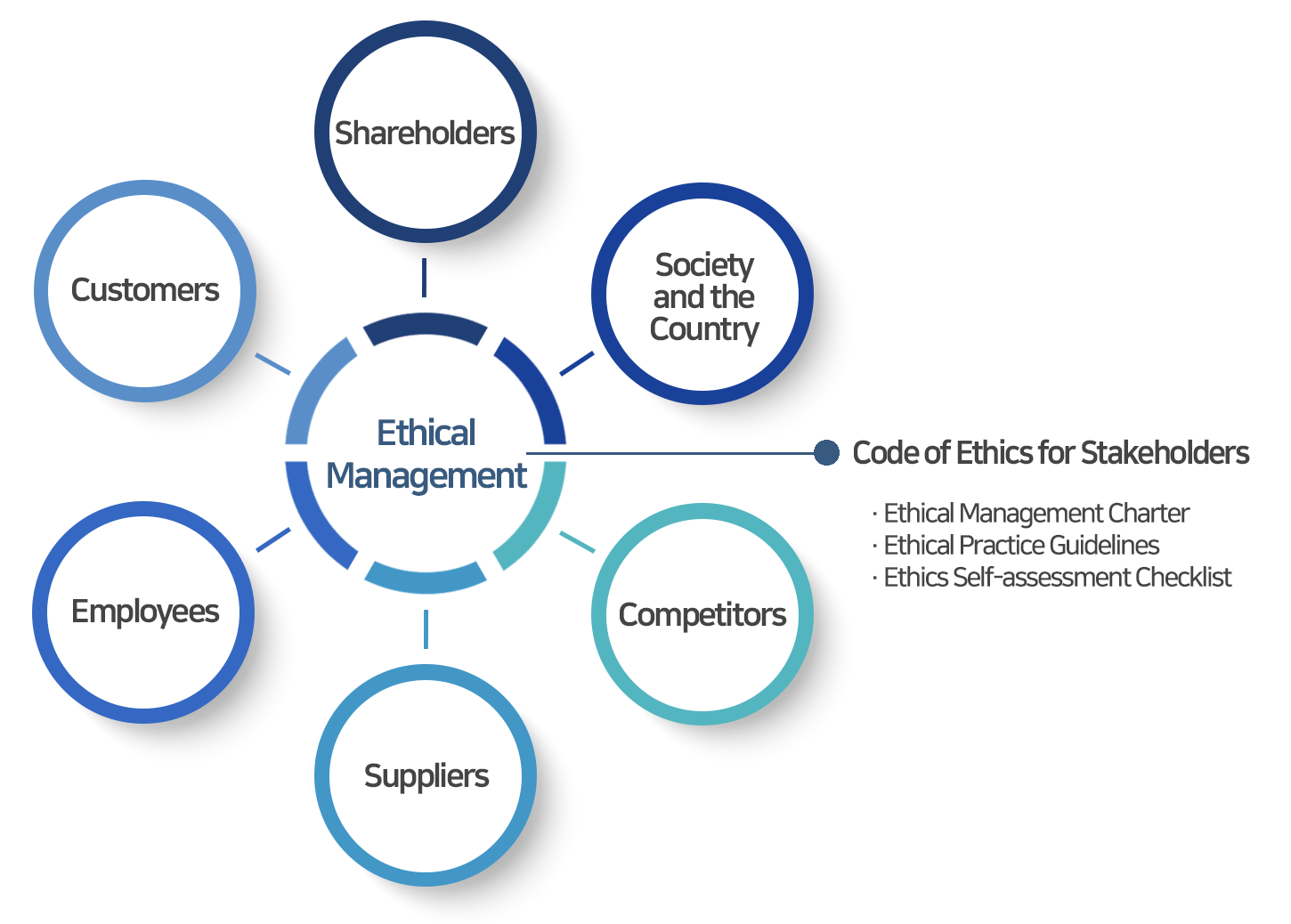 Code of Ethics for Stakeholders
KCC GLASS Corporation strives to ensure sustainable growth by promoting the participation of the various stakeholders and reflecting it to the company's decision making. To this end, we pledge to establish and practice the stakeholder code of ethics as the standards of conduct and value judgement to be applied to all employees.
1. Basic Ethics of Employees
Carry out all job duties in accordance with law and the company's regulations.
Protect the company's assets and adhere to the ethics between employees.
2. Ethics towards customers
Provide safe products and correct information to customers, and protect personal information thoroughly.
3. Ethics towards shareholders
Pursue the promotion of shareholders' value through transparent and sustainability management.
Guarantee the legitimate exercise of shareholders' right as much as possible.
4. Ethics towards suppliers
Create fair business transactions culture based on mutual trust.
Support continuous growth and development of suppliers.
5. Ethics towards competitors
Respect market order and pursue fair competition
Obtain and utilize information in a fair manner according to law.
6. Responsibility for employees
Respect the human rights of employees and refrain from a violation of rights or discrimination.
Provide equitable working conditions and a safe working environment.
Support the development of job competence and promote creativity.
7. Responsibility for society and the country
Respond to environmental problems actively through eco-friendly technologies and resource saving.
Create a bond with local communities and support vulnerable social groups.
Contribute to economic development through sound business activities.
8. Responsibility for internal control process operation
The organization managing this code of ethics monitors ethnical risks at all times and constructs the inspection system.
The organization managing this code of ethics takes proper actions in a prompt manner according to internal regulations in case of breaches of the code.